Bodies | Justice | Futures
9th Annual University of Kansas Digital Humanities Forum
3-4 October 2019
Lawrence, Kansas
The Digital Humanities Forum 2019, presented by the Institute for Digital Research in the Humanities (IDRH), will take place in Lawrence, KS, October 3-4, 2019 (with pre- and post-conference workshops on October 2 & 5) at the Burge Union at the University of Kansas.
Now in its ninth year, the Digital Humanities Forum brings together faculty, graduate students, and undergraduate students from the University of Kansas and beyond to celebrate and explore digital scholarship as a diverse and growing field of humanist inquiry. The Forum encourages participation (as presenters or attendees) by scholars at any stage in their careers, including undergraduate, graduate, postdoctoral, and faculty scholars; from gallery, library, archives, and museum professionals; as well as from those engaged in scholarship outside the university.
This year, the theme of the Forum is: Bodies, Justice, Futures. With this theme, the Digital Humanities Forum hopes to inspire presenters to think about the ways in which we envision and build towards just futures for individual and collective bodies from around the globe.  By evoking the human body, we ask presenters to foreground humanistic inquiries of digital culture and technology, to trace continuities between historical realities and present socio-political conditions, and/or take up issues related to marginalized and invisible lived experiences.
Conference Highlights
Six panel sessions addressing the topics of Borderland Identities in the Future of Digital Cultures; Mobility, Migration, and Community; Archival Justice: Gender, Sexuality, and Technology; Surveillance Technologies and Bias; and Race: Image and Sound, Bodies and Motion;
A Digital Showcase highlighting a dozen interactive digital projects, installations, video games, performances, and film/video screenings;
Best Undergraduate Paper and Best Graduate Student Paper awards;
A pre-Forum workshop on "Digital Literacy and Community Engagement: Building a Public Humanities Praxis"
A post-Forum, full-day workshop at the Lawrence Public Library exploring the limitations of artificial intelligence and the future of algorithmic governance
A reception at the Spencer Museum of Art, in conjunction with the Fall 2019 exhibition knowledges
FREE registration includes lunches and coffee during the Forum.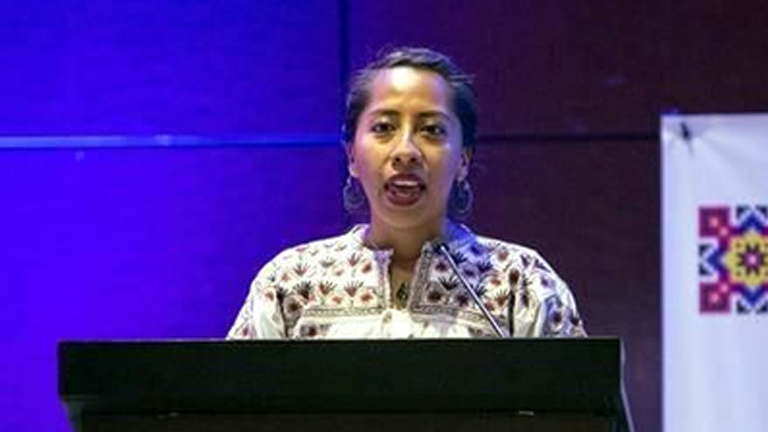 Janet Chávez Santiago
Indigenous Language and Culture Visibility in the Digital Age: Examples from Zapotec Activism

Janet Chávez Santiago was born in Teotitlán del Valle in Oaxaca, Mexico and comes from a family of master textile weavers and Zapotec speakers. From a young age Janet has been involved in traditional textile production, including tapestries and natural dyes. In 2013, in collaboration with Professor Brook Danielle Lillehaugen at Haverford College, she started the Zapotec talking dictionary of Teotitlán Del Valle.

Twitter: @JanChvzSanti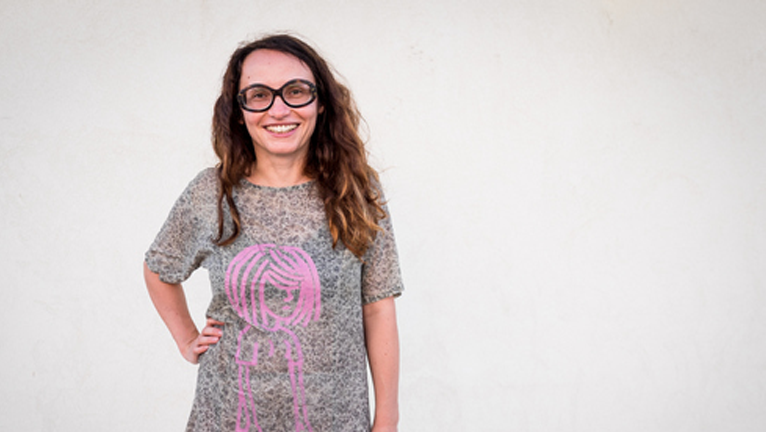 Denisa Kera
Justice Machines, Pacts with the Devil, and the Myth of Automation from Klepsydra to Blockchain

Denisa Kera is a philosopher and designer who uses prototypes and prototyping in the context of STS (Science, Technology, and Society) research into emerging technologies. Prototypes express the entrepreneurial, educational, and activist aspirations and expectations about the future, but they also allow "ontological" experiments, transient and ephemeral, material and cultural embodiments, which combine personal fantasies and ideas with current technological standards and limits. The public engagements in the early promissory stages of every technology are essential if we want to achieve anticipatory governance and more democratic future-making. Denia Kera spent the last decade as an assistant professor at the National University of Singapore, visiting assistant professor at Arizona State University (Center for the Study of Futures), and senior fellow at Prague College (Future Design programme). Currently, she is a Marie Curie research fellow at the University of Salamanca, BISITE group, where she works on blockchain, design, and policy issues.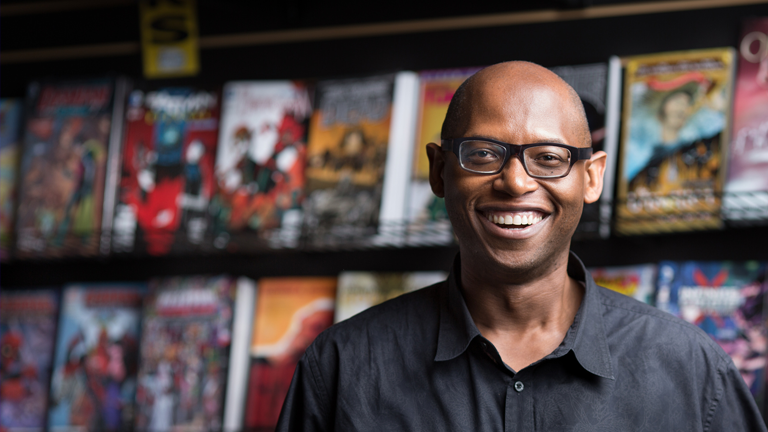 Julian C. Chambliss
Mapping the Black Imaginary: Race, Space, and Power

Julian C. Chambliss is Professor of English at Michigan State University. In addition, he is a core participant in the MSU College of Arts & Letters' Consortium for Critical Diversity in a Digital Age Research (CEDAR). His research interests focus on the race, identity, and power in real and imagined urban spaces. His recent writing has appeared in Frieze, Rhetoric Review, and Boston Review. An interdisciplinary scholar he has designed museum exhibitions, curated art shows, and created public history projects that trace community, identity, and power in the American South. His recent book Assembling the Marvel Cinematic Universe: Essays on the Social, Cultural and Geopolitical Domain (2018) explores questions of culture, identity, and politics in the MCU, and Cities Imagined: The African Diaspora in Media and History (2018) is a thematic reader that documents the African-American imaginary through primary and secondary sources focus on media and culture. Chambliss is co-producer and host for Every Tongue Got to Confess, a podcast examining communities of color and Reframing History, a podcast exploring history and community.

Twitter: @JulianChambliss
Wednesday, October 2
2:00-3:00pm
Facilitated by: Taylor Vinson, Georgetown University
Location: Watson Library, Rm 455
This workshop and discussion session will engage participants in considering how to use technology to critically analyze and creatively express social injustices from the past while speculating about the future. The emphasis will be placed on brainstorming real opportunities for intersecting technology, critical art and social justice.
Wednesday, October 2
3:30-5:30pm
Presented by: Julian Chambliss, Professor of English at Michigan State University
Location: Watson Library, Rm 455
In this workshop, we explore models for developing a public humanities practice that brings the classroom and the community into dialogue. From small intervention to systemic transformation, a "classroom as platform" model offers the opportunity to empower faculty and enhance student engagement. We will examine how to design a digital humanities praxis that links to the community, how this praxis might enhance teaching and learning, and how such a praxis fits within a broader scholarly narrative.
This workshop is intended for KU faculty or students who are developing or plan to develop a community-oriented digital humanities project. Participants will form a cohort of like-minded scholars who will meet periodically over the coming year to share ideas, feedback, and support
Saturday, October 5
10:00am - 4:00pm
Please note: Separate Registration Required (see bottom of this page to register.)
Presented by: Denisa Kera, Marie Curie Research Fellow at the University of Salamanca
Date & Time: Saturday, October 5, 10:00am-4:00pm
Location: Meeting Room C, Lawrence Public Library (707 Vermont Street)
Algorithms are everywhere and they do nearly everything. Just about every facet of our lives are governed by what are seemingly infinitely long strains of numbers and symbols. But, we know so little about them – what they do and where they exist. Their ubiquity is only growing as the aim of governments and policy-makers focus on influencing human behavior to conform to a particular concept of rationality. In light of this focus, issues regarding choice, autonomy, and well-being ought to drive our discussions.
If you want to want to explore these topics and learn best by doing or simply enjoy participating in role-playing games, then we have just the event for you. To help the public understand the implications of algorithmic governance and how ubiquitous algorithms are, the Lawrence Public Library and the Institute for Digital Research in the Humanities are hosting Denisa Kera for an interactive exercise exploring the broad issues raised by algorithmic governance.
In this workshop, participants will take on the familiar role of citizen of a small village. The only difference is that this small village and everyday transactions are completely governed by block-chain mechanisms in the creation of contracts. In other words, we will run through prototypical scenarios of creating "smart" contracts via programs designed to produce the most efficient contracts. These mock contracts will serve as entries into issues of bias, justice, and control in code and law and as tools of critical reflection and future scenarios on algorithmic governance, politics, and design.
This workshop is friendly to complete beginners. We will learn about blockchain technologies and services, but no prior experience is necessary. Please bring your laptop; no need to install anything.
For additional background information, you can read more about the workshop and the fictional smart village of "Lithopia."
Organizing Committee
Clarisse Barbier
Sarah Bishop
Shelia Bonner
Arnab Chakraborty
Erika Dickey
Maryemma Graham
Germaine Halegoua
Leah Hallstrom
Bryce Heesacker
Pam LeRow
Beth McSweeney
Joey Orr
Betsaida Reyes
Brian Rosenblum
Emily Ryan
An Sasala
Phil Stinson
Dhanashree Thorat