Digital Storytelling Colloquium: Annita Lucchesi
---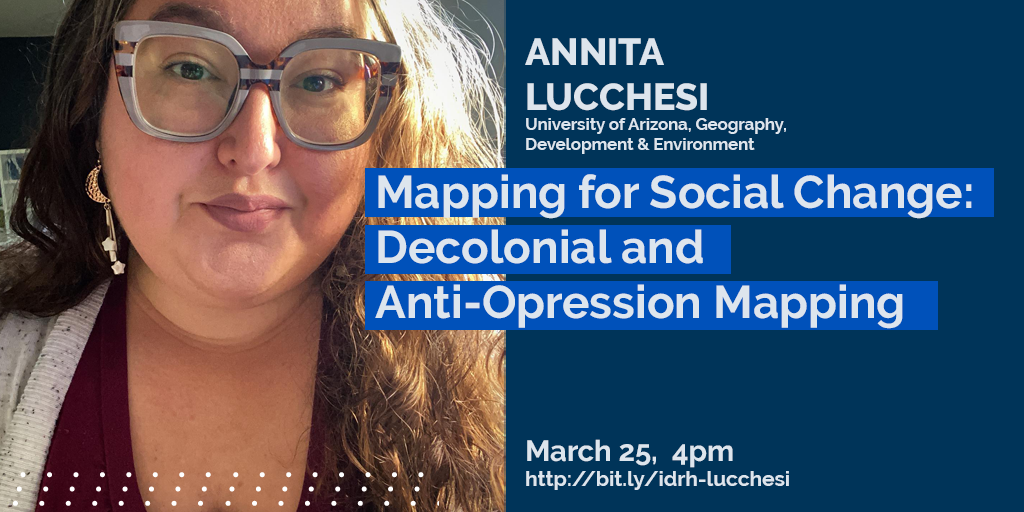 Register now: Mapping for Social Change: Decolonial and Anti-Oppression Mapping
Annita Lucchesi, Doctoral student, University of Arizona, 
School of Geography, Development, & Environment, Gender & Women's Studies)
Thursday, March 25th, 4-5pm. 
Registration is open for the next IDRH Digital Storytelling Colloquium! Hosted by the Institute for Digital Research in the Humanities, the Digital Storytelling Colloquium is a series of virtual events focused on the ethics, politics, and techniques of digital storytelling. Across all events, the vision of the colloquium is to build a community of inquiry and an incubator for ideas. 
This presentation will explore ideas, methodologies, and practices of mapping for social change. Specifically, the presentation will discuss how map-making can be utilized in decolonial/anticolonial and anti-oppression movement organizing, why maps are powerful tools in such organizing, and how maps can mobilize us towards positive social change. We will explore examples of maps and map-based projects for social change, primarily addressing gender based violence and Indigenous self-determination, and conclude with a discussion of how to implement best practices in mapping for social change. 
Annita Lucchesi is a researcher, scholar, and community organizer of Cheyenne and Italian descent, currently living on Wiyot territory in Northern California. Annita community engaged work and scholarly projects both are inspired by her experiences as a survivor of violence, and stem from a commitment to uplift other Indigenous survivors and those impacted by violence. Annita serves as founding Executive Director of Sovereign Bodies Institute (sovereign-bodies.org), a non-profit research institute dedicated to community-engaged research on gender and sexual violence against Indigenous people. 
Annita is  also a doctoral student at the University of Arizona, in the School of Geography, Development, & Environment, and is pursuing a minor in Gender & Women's Studies. She is an Indigenous Data Sovereignty Doctoral Scholar at UA's Native Nations Institute, and serves as a Board member for the UA Consortium on Gender-Based Violence. She earned her BA in Geography, with a minor in Global Poverty & Practice, from the University of California, Berkeley, and graduated from Washington State University with her MA in American Studies.
Her research interests include Indigenous and critical cartography, Indigenous feminisms, postcolonial geographies, Indigenous data sovereignty, femicide and gender-based violence, and Indigenous research methodologies. Her dissertation work examines the intersections of data, violence against Indigenous women and girls, and cartography, by studying how data on colonial sexual violence and mapping technologies are utilized in tandem to subjugate Indigenous women and girls and occupy Indigenous homelands. https://www.annitalucchesi.com/ 
Email the IDRH at idrh@ku.edu for more information.